General description and the BPE missions
Bordeaux PharmacoEpi (BPE) is a platform of Bordeaux University dedicated to research in pharmacoepidemiology. BPE was created in 2002, based on a historical involvement of the department of pharmacology of Bordeaux in pharmacoepidemiology. BPE was accredited by INSERM in 2008 in the pharmacoepidemiology thematic of the Bordeaux Clinical Investigation Center 1401 (CIC 1401) (partnership between Institut Bergonié, CHU de Bordeaux, Université de Bordeaux, and INSERM).
The BPE platform is supported by ADERA (Association pour le Développement de l'Enseignement et des Recherches auprès des universités, des centres de recherche et des entreprises d'Aquitaine) since 2008 for some management activities, in particular concerning human resources and legal affairs. The BPE platform is registered with ENCePP since the creation of the network and is referenced on the list of the EMA procurement procedure for drug safety studies. In 2019, BPE was certified ISO 9001:v2015 for its activities related to pharmacoepidemiology and as Plateforme de recherche de l'Université de Bordeaux.
The BPE platform also follows the European guidelines of the discipline, respects the ENCePP code of conduct, with about thirty studies registered in its EU PAS Register (European Union electronic Register of Post-Authorisation Studies), 8 of which received the ENCePP seal securing transparency and quality.
BPE has been doing studies in pharmacoepidemiology for over 15 years now, with a high scientific level, supporting to the scientific community and to socioeconomic partners through its expertise, know-how, skills, to meet population health needs. The missions of BPE platform are:
To promote public and private partnerships allowing the development of knowledge related to medecines in public health.
To define and conduct research to evaluate, in real life conditions and on a large scale, behaviours regarding drug prescriptions and drugs utilization patterns as well as their impact on health and costs.
To meet the needs of regulatory authorities and pharmaceutical manufacturers regarding the assessment of drugs and therapeutic strategies (risks, use and performances) after their marketing authorization ("PASS, PAES, HTA" studies).
The BPE also has expert and training missions complementarily with
Bordeaux University initial and continuing training
offer.
Activities, technical and professional capacities
BPE platform can thus ensure its missions of study realization, consulting and expertise in the field of pharmacoepidemiology, at the national and international levels. Since 2003 and the CADEUS* project, the BPE platform has done various studies (cross-sectional studies, cohort studies, case-control studies) in many therapeutic areas, within different data sources: more than 30 field studies (50 to 46,000 patients) and more than 50 studies using secondary data from existing databases such as the French nationwide claims database (Système National des Données de Santé - SNDS). Whatever their development phase, BPE manages 60 active projects per year in average (inception, design, implementation, publication), and has published more than 100 scientific papers in peer-reviewed journals over the last 5 years.
The originality of the BPE platform lies in its permanent structured team of around 30 people. It thus has all the skills to carry out studies in pharmacoepidemiology on the same platform: this organization facilitates the study management through the use of efficient operational tools, and thus optimizes the quality of data and results so they can be submitted to health authorities and sponsors in due time.
*Public health study conducted in France on 46,000 patients on the use of non-steroidal drugs (coxibs and NSAIDs).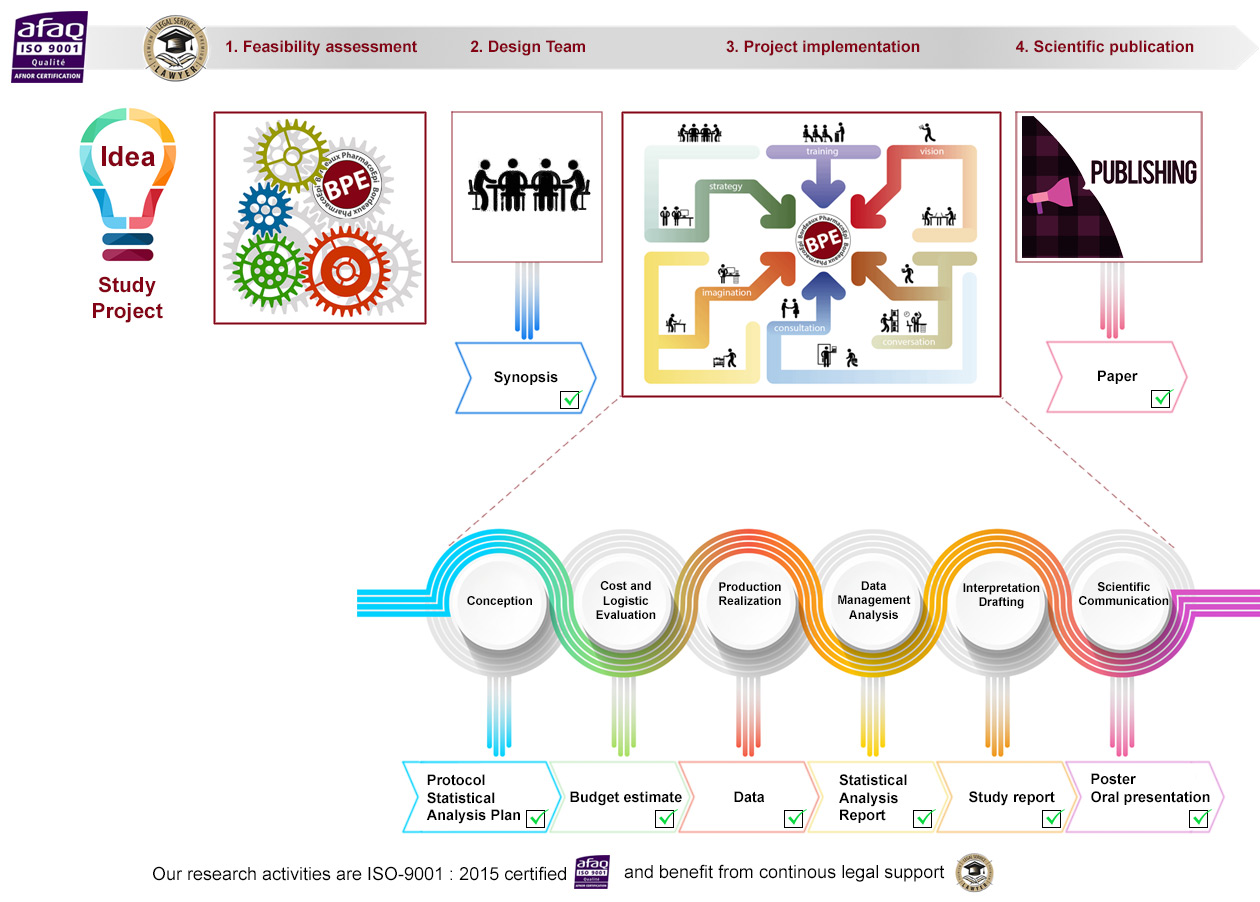 The BPE platform has a permanent team of around 30 people. This logistical and operational support team is made up of all the needed professions to carry out pharmacoepidemiological studies: physicians, pharmacists, epidemiologists, project leaders, team leaders, data managers, statisticians, database programmers, clinical research assistants, administrative agents as well as a secretarial / accounting unit. This team is located on the same operational platform (nearly 1,000 m2), which facilitates the management of studies through the use of efficient operational tools, and thus optimizes data and results quality to be submitted to health authorities and sponsors in the required timeframe.
The size of the team is adapted to the projects conducted by BPE by integrating and training new staff as needed. Training and teaching are an integral part of the activity of the BPE team, which regularly participates in teaching at Bordeaux University (Master 2 de PEP-PV, DIU ToMARS, DIU FARC-TEC, DU PEP).
Caroline Dureau-Pournin
Angela Grelaud-Boussinot
Séverine Lignot-Maleyran
Magali Rouyer-Colombier