Purpose – Missions – Values
Purpose
As a reference platform in France, the Bordeaux PharmacoEpi platform (BPE) carries out pharmaco-epidemiology studies with a high scientific level to evaluate the impact of drugs in real life settings.
The results of these studies aim to be published and participate in the development of recommendations to optimize the benefits and minimize the risks of drugs.
Missions
Thanks to its expertise, its strong technical and professional capacities, the BPE ensures the following missions:
Promotes public and private partnerships to generate knowledge related to medicines in Public Health both in France and internationally,
Defines and conducts research to evaluate, in real life settings and on a large scale, behaviours regarding drugs prescriptions and drugs utilization patterns as well as their impact on health and costs,
Answer to questions from regulatory authorities and pharmaceutical companies regarding the assessment of drugs and therapeutic strategies (risks, use and performances) after their marketing authorization ("PASS, PAES, HTA" studies),
Carries out expert and training missions complementarily with Bordeaux University initial and continuing training offer.
Values
Our requirements for the performance of our activities are multiple: quality, confidentiality of data, regulatory compliance, deadlines and budget respect.
Our Motto:&nbsp:&nbsp« The impossible is routine, the unthinkable is fun! »
Our values, reflect of our identity and ambitions, are based on the following principles:
To promote creativity and scientific excellence in pharmacoepidemiology studies,
To guarantee intellectual, institutional and individual independence,
To ensure partner satisfaction through passion, dynamism and innovation,
To lead a collaborative, committed and daring project management,
To ensure the teamwork values: caring, benevolence and respect.
History and Organizational structure
The BPE platform also follows the European guidelines of the discipline, respects the ENCePP code of conduct, with registration of its studies in the EU PAS Register (European Union electronic Register of Post-Authorisation Studies), including 8 with the ENCePP seal securing transparency and quality.
BPE has been doing studies in pharmacoepidemiology for over 15 years now, with a high scientific level, supporting to the scientific community and to socioeconomic partners through its expertise, know-how, skills, to meet population health needs.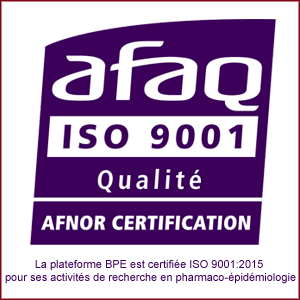 For more than 10 years, BPE has been committed to setting up its Quality Management System based on the experience of its teams, the support of an identified quality assurance person and the support of external quality experts. As part of INSERM CIC1401, BPE is regularly audited and accredited by the national medical research institute. It also has regular audits by the local instances, as well as by industry experts in the course of the usual work for industry.
BPE has been certified ISO 9001:v2015 for their research activities in pharmacoepidemiology since early 2019, a recognition of the Platform's quality commitment.
The BPE platform works also according to the European recommendations of the discipline, the ENCePP charter (European Network of Centers for Pharmacoepidemiology and Pharmacovigilance), with around thirty studies registered on the ENCePP database (including ENCePP Seal studies) guaranteeing transparency and quality.